Core-Cast is our nowcasting model to track the Fed's preferred inflation gauges before and through their release date. The heatmaps below give a comprehensive view of how inflation components and themes are performing relative to what transpires when inflation is running at 2%.
Most of the Personal Consumption Expenditures (PCE) inflation gauges are sourced from Consumer Price Index (CPI) data, but Producer Price Index (PPI) input data is of increasing relevance, import price index (IPI) data can prove occasionally relevant. There are also some high-leverage components that only come out on the day of the PCE release.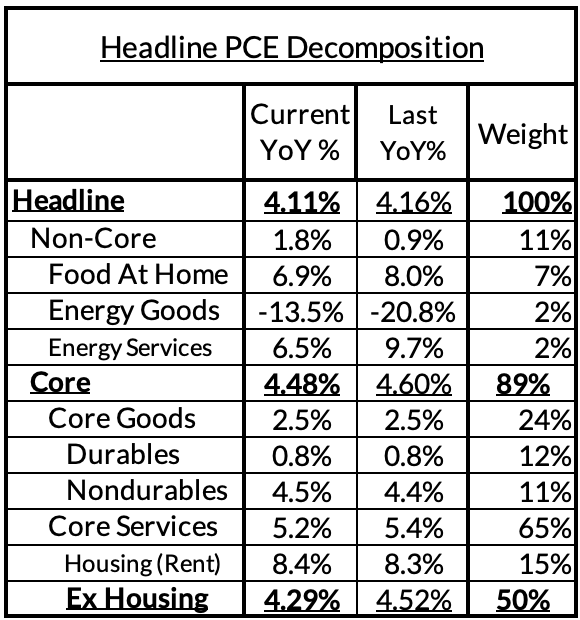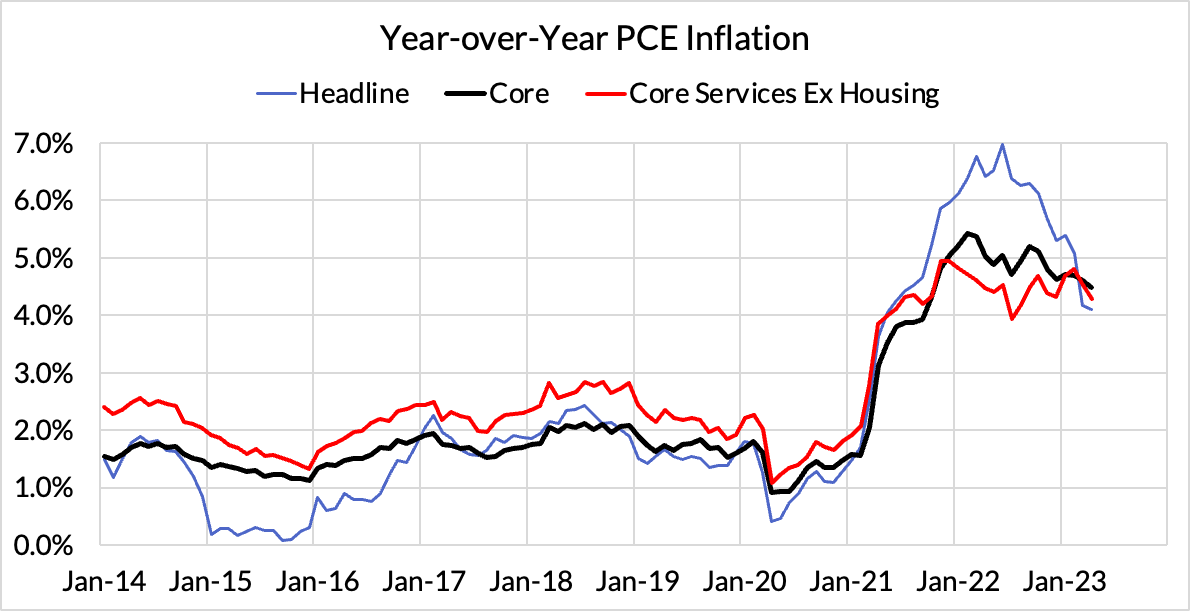 Our inflation preview flagged some key sources of upside (used cars, rent) vs consensus while noting the PCE-relevant details delivering silver linings...both sides gave it their best shot, but Round 1 goes to the PCE-relevant silver linings. Round 2 is tomorrow: PPI details will dictate a lot of PCE. And Round 3 will be the final PCE release, when we learn about the 'dark spaces' not covered by CPI or PPI. But today tees up a potential inflection point towards disinflation. April Core PCE and Core Services Ex Housing PCE could run at a monthly annualized rate consistent with the Fed's 2% goals. Today's information should put less pressure on the Fed to hike at the upcoming June FOMC meeting.
Headline PCE is on track to fall, from 4.16% year-over-year in March to 4.11% in April...
Core PCE is on track to fall, from 4.60% year-over-year in March to 4.48% in April...
Core Services Ex Housing PCE (CSXHP) is on track to fall, from 4.52% year-over-year in March to 4.29% in April...
Deeper Discussion
For those interested in a deeper knowledge of the high-stakes dynamics (see the heatmaps below for how their scale to contribute to PCE):
---
This is an exclusive Core-Cast post for our High-Frequency Descriptive Analysis distribution. To view the full version, consider subscribing to our full distribution by starting a 30-day free trial or by reaching out to us here.