Core-Cast is our nowcasting model to track the Fed's preferred inflation gauges before and through their release date. The heatmaps below give a comprehensive view of how inflation components and themes are performing relative to what transpires when inflation is running at 2%.
Most of the Personal Consumption Expenditures (PCE) inflation gauges are sourced from Consumer Price Index (CPI) data, but Producer Price Index (PPI) input data is of increasing relevance, import price index (IPI) data can prove occasionally relevant. There are also some high-leverage components that only come out on the day of the PCE release.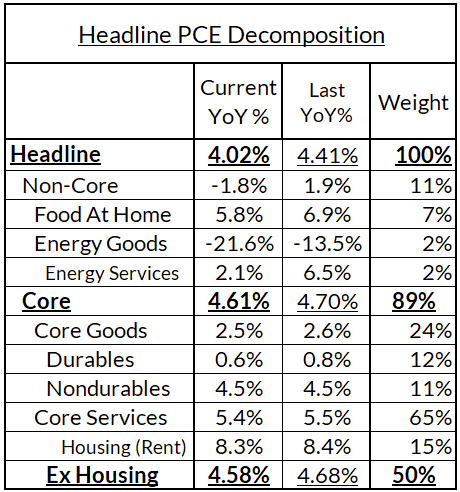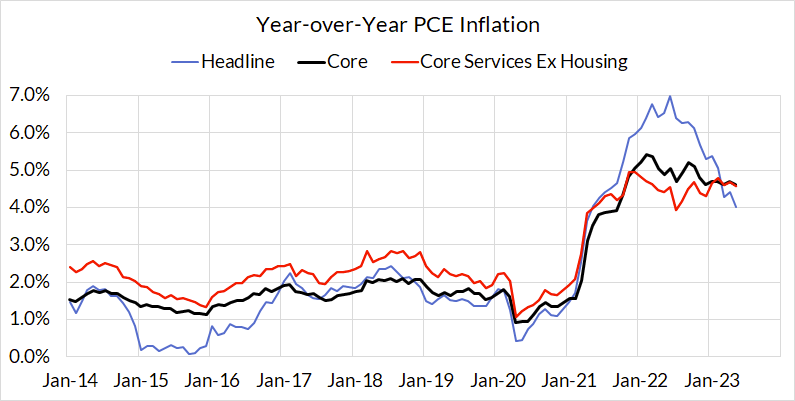 Summary: Unlike the disappointment of April PPI, the May PPI release confirms the encouraging details in the corresponding CPI release: Monthly Core Services Ex Housing PCE is likely to be close or even below what's consistent with the Fed's 2% Headline and Core PCE inflation goal. The upside surprises of last month in airlines and portfolio management did not sustain this month; airfare PPI was soft and financial services also reverted from the one-time April rebound in portfolio management (not as much reversion as we expected). While it now seems likely that Core Services Ex Housing will look very encouraging to the Fed for May, there are some potential wild cards to our current nowcast to still watch for: 1) import price data tomorrow will give more clarity on international airfares PCE, 2) the PCE release will have some idiosyncratic information about imputed financial services and input cost indices not captured in CPI, PPI, or IPI.
Headline PCE is now on track to decline, from 4.41%* year-over-year in April to 4.02% in May. (0.23% monthly increase, revised up from yesterday's 0.18% nowcast). *PPI revisions now set to push up year-over-year readings from 4.36% to 4.41% for April.
Core PCE is now on track to decline too, from...
---
The full version of this Corecast installment is made available exclusively for our Premium Donors. To view the full version, sign up here for a 30-day free trial or contact us for more information.